TCM RT Series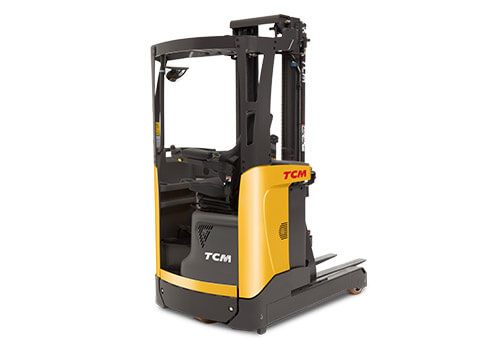 Key features:
Ultimate Operator Comfort
High-precision mast design
Top speed of 14.5 km/h
Fast Track battery change system
---
TCM Reach Truck Range
Ultimate Operator Comfort
TCM's new generation of narrow-chassis heavy-duty reach trucks bring your warehouse efficiency to the highest level. Entirely designed around the operator, these trucks provide world-class ergonomics and comfort and will adapt to your operational needs.
Designed to perform almost any heavy-duty 24/7 material handling task, the TCM RTN and RTL are universal reach trucks for those requiring a smaller footprint. Everything about the TCM reach truck – from ergonomics to performance – is about productivity. Features including TCM's unique mini steering wheel with floating armrest, the multi-adaptable operator's environment, intuitive controls, tilting seat and superior visibility put the operator in control to maximise efficiency and safety.
High-precision mast design with soft stop technology and a fully damped reach system contribute to supreme stability in all conditions. Mast tilt and intuitive lift controls further facilitate loading and stacking at all heights. The hands-free direction control uses the accelerator for change of travel direction allowing the operator to use the right hand for operating up to three hydraulic functions simultaneously. The powerful 48V AC motor provides excellent performance – top speed is 13 km/h. To maximise productivity and safety, TCM's Truck Computer allows the reach truck to be customised to each operator's driving skills.
By default, the maximum speed is 12.5 km/h, and a high-powered option gives the truck a top speed of 14.5 km/h, making the RT-series one of the world's fastest.
A wide range of innovative extra equipment such as ASR – Active Spin Reduction, LAS – Level Assistance System, ErgoLogic operator interface, Fast Track battery change system, load wheel brakes, video camera and cold store cabin complement an already feature-laden truck.
---
Brochures:
TCM REACH BROCHURE
TCM Reach trucks
---
Please note: Not all equipment may be listed on our website. Please contact us to discuss your specific requirements.