JLG Nano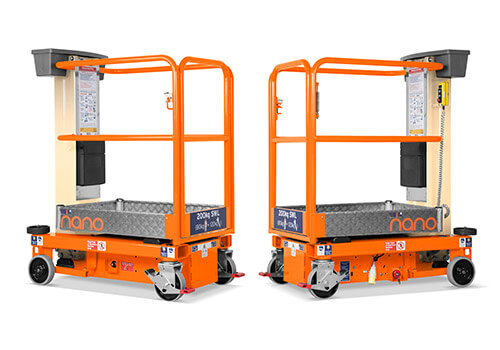 Key features:
Platform Height: 2.50 m / 8.2 ft
Machine Width: 0.75 m / 2.5 ft
Equipment Type:
Work Platform

,
---
Push Around Mast Lift
Easier and more productive than manual access: the user simply steps into the fully guarded platform and presses a button or turns a handle.  No need to erect and dismantle scaffold or climb up a ladder. Position the platform height exactly where you want it.
Nano
Key Features
The Nano is usually the preferred choice where the application requires a smaller footprint, yet large platform area
Construction: ideal for finish work, multi-story projects. Used by mechanical, electrical and HVAC contractors, dry-walling carpenters, painters, etc.
Facility Maintenance: Cleaning, painting, decorating and general building maintenance in offices, schools, hospitals, institutional and industrial maintenance
---
Brochures:
JLG Low-Level-Powered-Access-Reference-Guide
---
Please note: Not all equipment may be listed on our website. Please contact us to discuss your specific requirements.