JLG Nano SP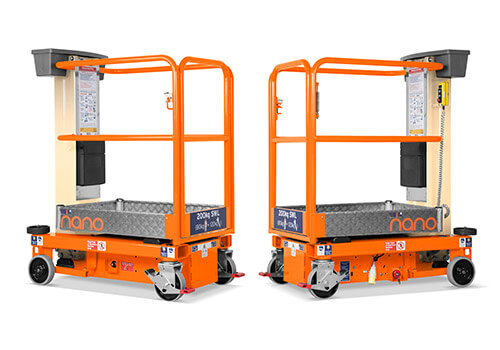 Key features:
Platform Height: 2.50 m / 8.2 ft
Machine Width: 0.75 m / 2.5 ft
Equipment Type:
Work Platform

,
---
Driveable Lifts
Low-level, light weight, self-propelled machines like the nano SP range offer an even more productive alternative to push-arounds in the right application. Where the user has many repositions through the working day, or regular movement when elevated, then self-propelled offers the convenience of not having to descend to move or not having to step out of the platform to move.
Nano SP, SP Plus, SP Zero
Key Features
Construction: ideal for finish work, multi-story projects. Used by mechanical, electrical and HVAC contractors, painters, etc.
Facility Maintenance: Cleaning, painting, decorating and general building maintenance in offices, schools, hospitals, institutional and industrial maintenance
Fully self-propelled, even when fully elevated
Extended platform options
---
---
Please note: Not all equipment may be listed on our website. Please contact us to discuss your specific requirements.