Combilift Combi-GTE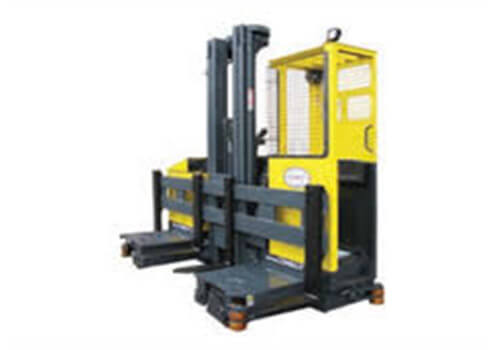 Key features:
Narrow cab design
Robust and reliable
Equipment Type:
Multi Directional

,

Narrow Aisle

,

Sideloader

,
---
COMBI-ST & COMBI-GT RANGE
THE OBVIOUS CHOICE OF FORKLIFT WHEN SPACE IS AT AN ABSOLUTE PREMIUM
For operators working in confined spaces, excellent visibility and speedy picking is essential. Guided aisle operation and a cab designed for efficiency make the Combi-ST and Combi-GT stand-on ranges the obvious choices when space is at an absolute premium, such as in stockholding facilities for steel, metal, tubes, uPVC extrusions.
The narrow cab design enables operation in extremely narrow aisles. And what's more, platform lengths can be customised to fit existing narrow aisle facilities.
Reduced on-site storage costs coupled with the ability to adapt stock density to growing demand are just some of the advantages of the Combi-ST/GT models.
Robust and reliable, Combilift stand-on sideloaders can manoeuvre long loads indoors and out. The Combi-GT two-way sideloader can work in aisle-widths of just 1.27m
---
Brochures:
Combi GTE Technical UK 2018
---
Please note: Not all equipment may be listed on our website. Please contact us to discuss your specific requirements.