JLG 1930ES – 3246ES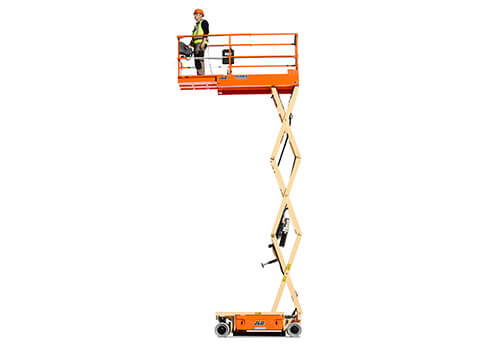 Key features:
Up to 450 kg capacity
Reduced charging time and longer runtime
Models include: 1930ES, 2032ES, 2632ES, 2646ES, 3246ES
Equipment Type:
Scissor Lift

,
---
ES Series Scissor Lifts
ES Series
Experience the benefits of reduced charging time and longer runtime with the ES Series scissor lifts. You can stay on the job longer, getting more work done in one day. With only two hoses and four fittings, you are working with a cleaner machine that decreases scheduled service requirements and reduces the risk of leaks. Up to 450 kg (1000 lb) capacity, proportional controls for ease of operation and optional accessory packages give you exactly what you need to get the job done.
Scissors Lifts
JLG® scissor lifts deliver long lasting performance for a more productive day. This type of aerial work platform is ideal for indoor or outdoor construction or maintenance tasks. Choose from electric scissor lifts with longer runtime or engine powered scissor lifts for durability on rough terrain.
Available with various working heights and platform capacities, it's easy to find a model that fits the needs of your job site
Electric drive delivers more than double the battery life of hydraulic drive machines
---
Brochures:
JLG Electric-Scissor-Lifts-Brochure
---
Please note: Not all equipment may be listed on our website. Please contact us to discuss your specific requirements.