Hako Sweepmaster B500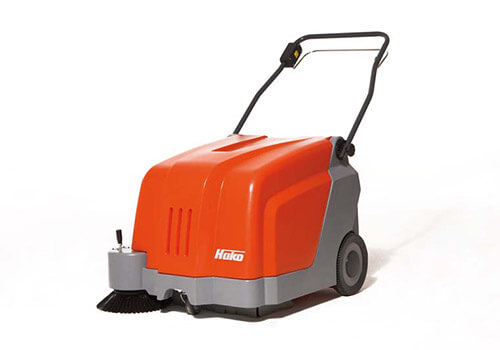 Key features:
Efficient dust control by performing fan and large filter
Totally corrosion proof body/chassis and dirt hopper
Onboard charger with integrated mains cable for uncomplicated recharging
---
The Sweepmaster B500 is the smallest motorised sweeper in our product range for use on all hard floors and carpets. Coverage of up to 2,400 m2/ h; it achieves this with a speed of 4km/h. Dust absorption occurs through a powerful vacuum blower with a large filter. Highly effective, filter cleaning system. When not in use simply plugin the onboard charger to the mains. The sweep width is 60cm with the side brush and 40cm without. The machine is under a m3 for storing.
Fully usable hopper volume (overhead principle)
Largest hopper of this class (40l)
Extremely simple operation to ensure work is easier and more efficient
---
Brochures:
Hako Sweepmaster-B500
---
Please note: Not all equipment may be listed on our website. Please contact us to discuss your specific requirements.