Crown ESR Series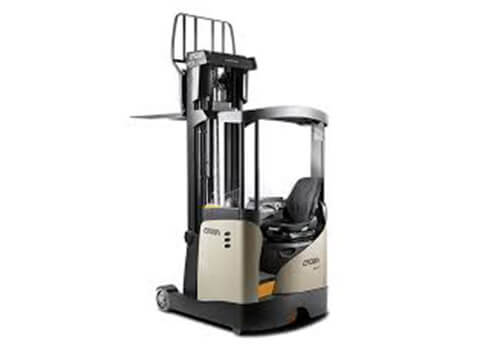 Key features:
Range of lift heights
Smooth and precise control
---
Focused on Performance   
The Crown ESR Series reach truck offers a range of lift heights, capacities, performance levels and operator features aligned with your required duty cycle.
Operators gain confidence and performance with Crown's intelligent Optimised Cornering Speed (OCS) system that automatically adjusts acceleration and deceleration curves for maximum safety and performance.
The ESR Series provides smooth and precise control of hydraulic functions and a full range of standard and optional features designed to increase operator efficiency.
One Flexible Solution
With four models in three capacities and lift heights to 13 metres, the ESR Series reach truck provides the flexibility to address various rack set-ups, space constraints, environmental extremes and more. A streamlined design helps operators move in and out of drive-in racks with greater ease and efficiency.
From the value-packed ESR 5220 to the best-in-class ESR 5280S, you'll find a reach truck to match your performance, aisle width and lift height requirements.
Comfort Drives Productivity
Ergonomics play a vital role in many aspects of the ESR Series reach truck. From controls to comfort, the goal is to improve productivity with every move.
For example, Crown's exclusive swivelling MoveSeat with integrated headrest, tilts back to comfortably improve visibility while reducing back and neck stress.
Take the controls and feel the smooth and efficient movements in any direction; driving, manoeuvring, lifting and reaching.
---
Brochures:
Crown ESR Reach Truck Brochure
---
Please note: Not all equipment may be listed on our website. Please contact us to discuss your specific requirements.