JLG PowerPicker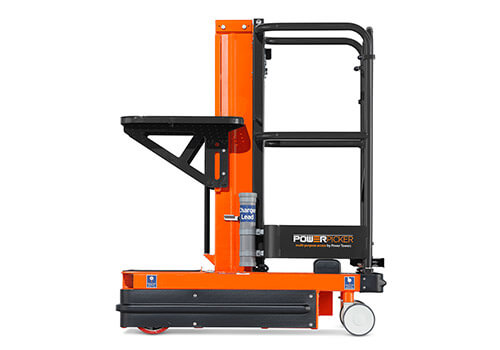 Key features:
Working Height: 4.38 m / 14.4 ft
Picking Height: 3.88 m / 12.7 ft
Platform Capacity: 130 kg / 286.6 lb
Tray Capacity: 70 kg / 154.3 lb
Machine Width: 0.78 m / 2.6 ft
Equipment Type:
Stock Picker

,
---
Push Around Stock Pickers
Choose the simple, safe and efficient alternative to traditional step ladders, platform steps or scaffold towers. JLG® push around stock pickers are designed to provide you with years of reliable, trouble-free service in your supermarket, warehouse, retail store or office. These multipurpose tools carry both people and product, making them the ideal solution for stock picking applications and routine facility maintenance tasks.
Compact Dimensions: At only 0.78 m wide, you can easily pass through standard doorways
Enhanced Safety: Gates automatically lock and must be locked to elevate, manual emergency descent from ground and automatic dead-man parking brake
Increased Convenience: Low entry height and power-assisted load tray adjustment
Diverse Applications: Ideal for tasks at shops, supermarkets, warehouses, malls, offices, retail, order picking and for routine facility maintenance
---
Brochures:
JLG Stock-Picker-Brochure
---
Please note: Not all equipment may be listed on our website. Please contact us to discuss your specific requirements.