Doosan BR15J-5 – BR18J-5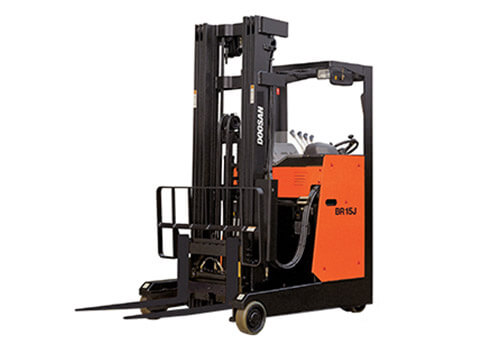 Key features:
Simple, effective and low cost
Ergonomically designed
Models include: BR15J-5, BR16J-5, BR18J-5
---
The Doosan -5 reach truck continues to be a reliable old school style warehouse machine.
DOOSAN'S goal is to make your material handling operation both efficient and profitable. The durability and reliability of these reach trucks will aid in minimizing your truck down time and total cost of ownership.
Our ergonomically designed and spacious operator compartment combined with a variety of operational enhancements will facilitate ease of operation and help boost output in any application. An anti- slip soft rubber floor mat, large accelerator and brake pedals, ample foot and leg room, convenient side deck mount hydraulic levers, and our open view instrument panel all work together to provide operating ease and assure a productive work cycle.
Simple, effective and low cost it offers a really good budget option in the current reach truck market place
---
Brochures:
Doosan_BR15-18J-5_Brochure.pdf
---
Please note: Not all equipment may be listed on our website. Please contact us to discuss your specific requirements.